Home / Tradition, Taste and Well-being
Tradition, taste, wellbeing: these are the prerogatives for the organic products that Panela has been searching and selecting in the furthest places of the world, for over thirty years, with an undiminished passion.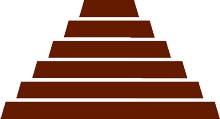 These are three distinctive elements intrinsically linked to one another, only the wholesome and organic products of the soil with an ancient tradition and a rare quality, can offer that inimitable taste and save the nutritional elements, which are required for a healthy diet, as it has been widely demonstrated by scientific research.
Three specific qualities at the base of the pyramid: three different but intimately connected sides, representing, from different points of view, the same virtuous model.
A pyramid, ancient monument in the history of man and a symbol of the food pyramid, that represents the correct, healthy and essential nutrition, with all the flavors that nature can provide, that Panela has been able to rediscover and revive.
4 Good Reasons to choose Panela
Panela Social:

Follow Us on Facebook

Follow Us on Instagram