Home / Panela – The Original
Panela - The Orginal Shredded Block
The traditional sugar block drives straight to the heart of Andes Mountain range. It delivers the truly vitality of the unfiltered cane juice. A unique variety that grows beyond 1.200 meters above the sea level in steep and small crops that are scattered in the wild vegetation.
The Block, as it was at the time of Spanish conquerors, is obtained through the simple concentration of the freshly squeezed juice, where the water in excess is evaporated, thus averting further processing, such as deep filtration and cooking.
At this stage the Panela Method, a smart but simple technique for "shredding" the traditional blocks and obtaining an irregualr granulate, marks its difference by safeguarding the original taste and the wholesome vitality of the block.
Whole sugar?...The difference is the Shredded Block!
1) The traditional Blocks are sourced from the sugarcane variety named "caña panelera" that grows on the steep slopes of the Andes range in small crops (cultivo en laderas)
2) The freshly squeezed juice is just concentrated thanks to a gentle processing where the rich Molasses portion is not washed out through deep filtration and overcooking processings that would harm the nutrients in favor of the sucrose content and the dusty texture.
3) The Panela Method for converting the block into the yummi and irregular granulate is a smart technique, somehow similar to a "hand grater", that carrys out a gentle and soft motion without overheating or invasive processes.
4) Panela is a rich and whole food that is also suitable for sweetening thanks to the presence of a wide range of saccharides, beside the simple sucrose, combined with minerals and nutrients.
5) The "gentle grinding" that is the distinctive trait of the Panela Method combined with the light processing of the fresh cane juice (without overheating and deep filtrations), enhance its taste and shrine its vital force: A nourishing food that makes your dish sweeter not just a common sweetener or refined sugar.
The secret of the Panela Method hinges on the Shredded Block: in fact only the Panela Method is the proof of the ground block (other dusty granulated sugars, albeit wholemeal, are the result of further processing and filtrations).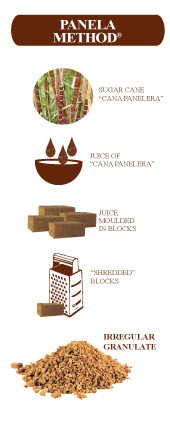 Thanks to its rich flavor with hints of honey, caramel and licorice, it is ideal to be sprinkled over fruit "carpaccio" (strawberry, pineapple, kiwi) or fuit salads , yogurt and ice creams. It is a sugar replacement for all purposes (shortbreads, cakes, drinks and herbal teas). It is perfect for the preparation of refreshing drinks, either cold or hot).
Get inspired by its "power" when try it as it is or just deep breath its scent. The 120g glass jar format (refillable) is the perfect sugar bowl to fall in love with Panela.

Artisan manifacture
Unique method of processing of the blocks of whole sugar.
4 Good Reasons to choose Panela
Panela Social:

Follow Us on Facebook

Follow Us on Instagram