Home / Golamera Virgin Coconut Oil 220g
All the advantages of Virgin Coconut Oil...to spread!
From the perfect combination of Virgin Coconut Oil, Defatted Cocoa and Gulamerah from Bali (the wholemeal sugar from the coconut flowers) it comes to life the unique and delicate taste of chocolate spread cream Golamèra. With all the health benefits of Virgin Coconut Oil we have a delicious but whole spread-cream to recharge energy and nutrients at any time of the day.
Organic product with No refined sugars, No milk, No added fats except for those naturally present in the ingredients and No lecithin. Suitable for Vegetarians and Vegans.
Where is the proof? In Golamera you won't find the layer of afloat fat on the surface.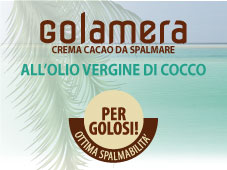 Related Searchs:
4 Good Reasons to choose Panela
Panela Social:

Follow Us on Facebook

Follow Us on Instagram